Reunion San Diego:  The Importance of Friendship
By Ron Dizon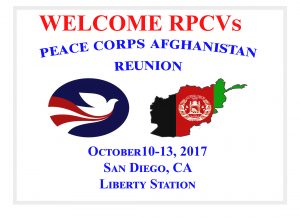 Spanning a period of 52 years and getting together with old friends is one of the greatest occurrences offered in life's personal passage.  On October 10, 2017, sixty-four Returned Peace Corps Afghanistan Volunteers convened in San Diego, California to renew old friendships, share past stories and fill the hiatus of years with personal stories of their lives after Afghanistan.
It was Bill and Patty Mittendorff who lit the "Reunion 2017" torch at the Stone Brewery with their inspiring words to the gathered assemblage.  It was followed by a rousing Afghanistan Trivia Game hosted by Tim McCormack, a previous reunion host, which created the nostalgic ambience of humor only Peace Corps Afghanistan volunteers could appreciate.
With a 9:00am muster in Salon C at the Courtyard by Marriott Liberty Station, volunteers viewed slide presentations that offered a nostalgic remembrance of past and present images of themselves and one presentation that documented the Food for Work Volunteers' critical role in the United States War on Hunger called Operation Help.
Tony Agnello, president of Friends of Afghanistan, followed with his introduction of Phil Smith who presented his current venture in a startup called the Bamiyan Weaving Project.  He was followed by Lou Tamaino who memorialized Bob Hull, an RPCV in his group, for Bob's contribution to the architectural design of a girl's school in Herat, Afghanistan.
The activities of the second evening began at 4:00pm at a Soiree at Bill and Patty Mittendorff's home where Professor Abdul Rahim Yaseer, the Assistant Director of the Center for Afghanistan Studies at the University of Nebraska Omaha, discussed Afghanistan's past and tenable future.  The Professor was followed by a catered affair by Kabul West Catering that served all the unique dishes volunteers remembered in Afghanistan's tea houses.
Our final full day was punctuated with a breakout luncheon with the Food for Work/Operation Help Team Volunteers in San Diego's Old Town at Casa Guadalajara Mexican restaurant, while other groups chose to tour the city sights.
The Last Supper was served at the Khyber Pass Restaurant, a family-owned restaurant in business for 35 years.  Like Kabul West Catering which provided the dinner on our second evening, Khyber Pass Restaurant completed the final jewel in the Epicurean Crown of Afghan Cuisine in San Diego.  A surprise birthday celebration for Dan Koch highlighted the evening's happenings with attendees exchanging phone numbers, e-mail addresses and final hugs.
The RPCV San Diego Reunion ended with a pledge to convene again in 2019.